New EPA Region 5 Environmental Finance Center at Débuts Infrastructure Finance Basics Workshop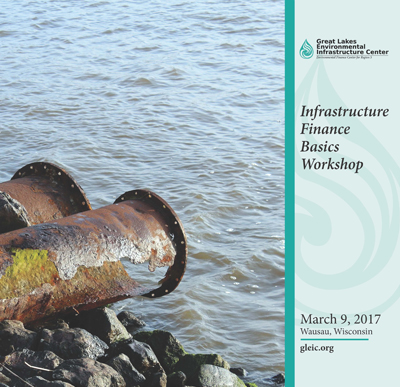 Finding and securing funding for environmental infrastructure may be daunting. To help small communities and tribal governments tackle that task, the Great Lakes Environmental Infrastructure Center is offering a workshop to provide guidance for obtaining funding for environmental infrastructure projects. During the 2017 Infrastructure Finance Basics Workshop, attendees will learn more about the funding process, gain the tools for evaluating funding alternatives, and find help for getting started with funding applications. Paul A Nelson, PhD—an associate professor of economics in the School of Business and Economics at Michigan Technological University—and John Sullivan, PE—a senior research engineer for the Center for Technology & Training—will share their knowledge on this topic, providing:
An overview of drinking water and sewer systems
Details about capital improvement programs
Information related to grants, loans, interest rates, cash flow, and rate of returns
Particulars about municipal bonds
Guidance on writing proposals
The workshop will be held March 9, 2017 from 9:00am until 4:00pm in Wausau, Wisconsin. For more information, visit http://ctt.nonprofitsoapbox.com/2017financebasics-wausau.