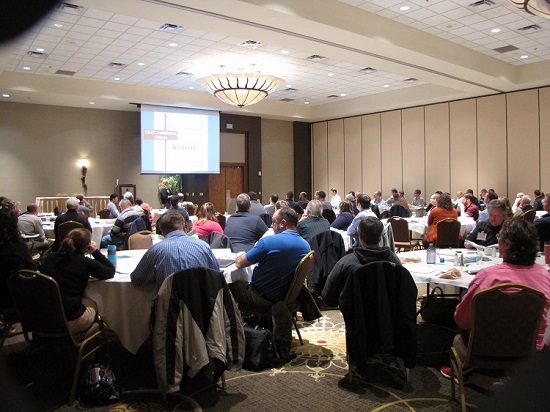 The GLEIC can support local, state, and tribal government (LSTG) agencies and their private sector partners. Some examples of GLEIC services are:
Training
Professional development
Networking with subject matter experts and other professionals
Technical assistance
Access to new technology
Publications
Demonstration and research guidance projects
Training, Professional Development, and Networking
The GLEIC provides customized, regional, on-site training sessions and webinars for LSTG agencies. These training opportunities address needs and challenges voiced by LSTG agencies in the Great Lakes region. Training events give participants the skills they need to successfully address challenges as well as the opportunity to build connections with other environmental system managers / operators in their region. To find out more about our upcoming training opportunities in your area, please visit our Training Events & Webinars page.
Technical Assistance, Technology Transfer and Publications
Technical assistance and technology transfer is another way in which the GLEIC can support you. The GLEIC provides access to individuals who are experienced in tackling difficult environmental systems and finance-related issues. GLEIC team members offer guidance by providing technical assistance and can refer you to experts and resources that can help. 

GLEIC team members include licensed civil and environmental engineers, business and finance professionals, and other technical experts from among Michigan Technological University's faculty and staff. Many of the GLEIC team members have had significant project experience in the field prior to being on the GLEIC team. GLEIC team members will provide over-the-phone and on-site engineering research and recommendations on a wide variety of environmental and financial questions. Recommendations are limited to providing resources and engineering experience on a limited-term basis. GLEIC engineers and researchers will not act in place of an agency engineer or financial officer.

The GLEIC will be compiling an electronic reference library as well as a library of key publications not available in electronic form as a resource to LSTG agencies. Check our Publications & Tools page to find out what we have available electronically, or call or e-mail us to see if we can help you find more resources.
Demonstration and Research Guidance Projects
Another way the GLEIC can support LSTG agencies is by undertaking demonstration and research guidance projects. These projects show practical, best practice solutions to real world problems here in the Great Lakes Region. By completing these projects, and making them available to you, we hope that we can provide you with actionable guidance to solve similar issues in your communities. To see some examples of the kinds of projects the GLEIC can undertake please visit our Demonstration Projects page.